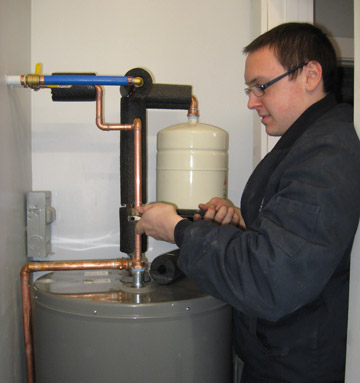 Jackson Plumbing & Heating offers residential and commercial plumbing services throughout Old Town, Orono, Bangor, Brewer, and 30 miles beyond the area. Our fleet of service vehicles is ready 24/7 for any emergency you may have with your plumbing system.
We do it all for homeowners, from small repairs on leaky faucets and clogged drains to complete installation of all plumbing and fixtures in new homes. We offer pump and well service, pipe thawing, installation of dishwashers, water heaters, and backflow preventers.
Business owners can call on us for repairs, renovations, or new construction. We have an extensive list of references in the area with a variety of businesses. From the installation of restaurant equipment to commercial water heaters and complete plumbing systems in apartment buildings, we have experience in all types of commercial applications.
We also sell plumbing fixtures available by special order. We sell products from all the top manufacturers like American Standard, Kohler, Moen, Toto, Aker, and Oasis. Whether you need a new faucet or showerhead or are renovating an entire kitchen or bath, we're ready to help.
Also, get great advice from professionals who have been in the plumbing business for years! All of our technicians are state-licensed and certified and receive the latest training available within our industry. You'll find our rates competitive and our service second to none.