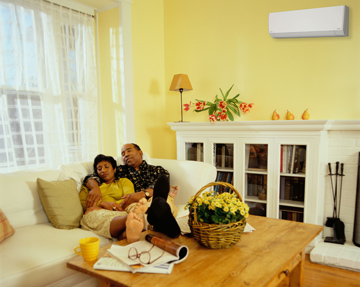 At Jackson Plumbing and Heating, we can help you keep cool in the summer! In Maine, this isn't as much of a priority as heating, but it's still essential to some. We recognize that.
Whether your need is for health issues or your own comfort, we'll be happy to come to assess your home or business situation. We'll recommend the best air conditioning solution for you. From central air systems to smaller, individual units, when you need some cooling action, call Jackson!
We sell, install, and service air conditioning units from Fujitsu, Daikin Mitsubishi, York, and other brands. We're certified in refrigeration, allowing our technicians to recharge and reclaim refrigerants in your air conditioning unit. We'll keep you cool 24/7 with round-the-clock service in the Greater Bangor area and beyond!
A popular option today for cooling and heating is the mini-split or heat pump. They have been used for years as cooling appliances in warmer climates. Super cost-efficient, a mini-split may be a great cooling choice for you. They also dehumidify better than standard air conditioners, resulting in less energy use and greater comfort for you!
We're certified installers for mini-splits and licensed to do annual maintenance on any unit, regardless of the make or where you purchased it. Not all installers are certified to handle refrigerants in mini-splits. Be sure to check before you buy!
You may also qualify for incentives through Efficiency Maine when you install a mini-split in your home or business. Check with us today. Our estimates are always free. Our experience means you'll get valuable advice.