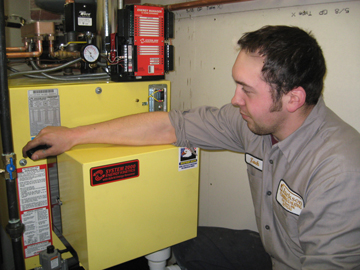 Jackson Plumbing & Heating provides service and installation of heating equipment for both homes and businesses. Our service technicians are on call seven days a week, 24 hours a day for any emergencies that occur with your heating system. We cover roughly a 30-mile radius around the Greater Bangor area from our home base in Old Town.
We service all boilers. Our technicians are licensed and certified for oil, propane, and natural gas installation. We provide annual cleanings and service contracts to cover most major components, yearly cleanings, and service calls.
We are the area's franchisee for System 2000 high-efficiency boilers. System 2000 from Energy Kinetics is the first fully-integrated heat and hot water system on the market. Unlike conventional boilers, System 2000 is activated only when you need heat or hot water.
After your heat and hot water needs are satisfied, System 2000 runs a Hybrid Energy Recovery cycle that puts nearly every ounce of heat left in the boiler to work for you. System 2000 is the most versatile fuel-efficient heating system available. Also, System 2000 is "fuel-neutral." It can be installed with oil, natural gas, or propane.
With System 2000, hot water is readily available through a high-performance hot water storage tank. At the end of the hot water call, the burner automatically shuts down. The Hybrid Energy Recovery cycle recovers heat left in the boiler and delivers it to the hot water storage tank, so no energy is left wasted in the boiler.
Our technicians must be certified by System 2000 to perform installations. System 2000's whisper-quiet operation is extraordinary. The industry-leading burner airbox design and spiral boiler pressure vessel filters out annoying background noises for true whisper-quiet operation.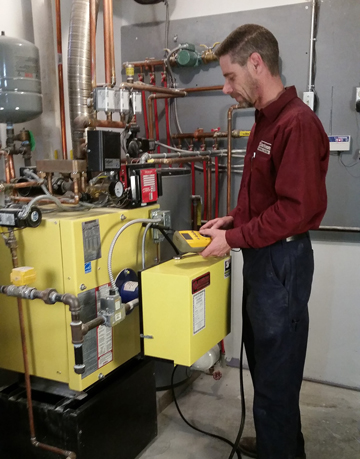 We have a long list of satisfied customers who have realized substantial savings from their System 2000 boilers. Most have recouped their costs within a few years. Also, we sell boilers from Thermo-Pride, Lennox, NTI Thermal, Empire, and Trinity.
We're happy to recommend the system that's best for your home or business. We know you want a quality product for a reasonable price that operates efficiently to keep your fuel cost down. At Jackson, we'll give you straight talk about the options available and a competitive price.
Our technicians will be there on time. We will get the job done to your satisfaction. When you need action, feel confident in calling Jackson!