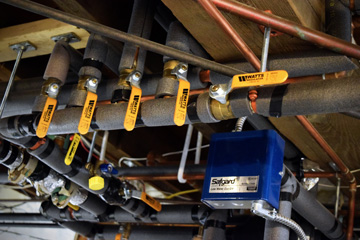 At Jackson Plumbing & Heating, we were the first local company to install natural gas in our area when Bangor Gas first started supplying homes and businesses. That means that we're experienced. We can answer your questions with first-hand knowledge and great advice!
Our technicians are licensed installers. We can install new systems or convert your old boiler or gas fireplace to burn natural gas. We sell and install many brands of furnaces, boilers, and burners for natural gas. Set up an appointment to see what's best for your home or business.
Converting your existing heating system to natural gas is a simple process! Let us visit your home or business to give you an estimate on the conversion that's right for the type of furnace, boiler, or fireplace you currently operate. It's a quick process with most systems.
We'll help arrange the switchover with Bangor Gas. Burning natural gas has incentives! You may find immediate savings on fuel. We all know how prices have fluctuated in recent years.
There are also incentives for including natural gas in your new building plans or converting your existing heating system to natural gas. We are a certified Efficiency Maine dealer. Click here for more information on up-to-date incentives.